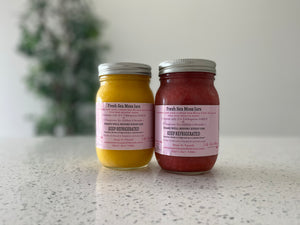 The Benefits of Gold Sea Moss
We take pride in only using fresh ingredients from our St. Lucia Gold Sea Moss to our organic fruits and even our local raw honey, with no artificial flavoring or preservatives.
Our products are excellent and safe natural alternatives to over-the-counter vitamins, many of which aren't FDA-approved. With Let's Sea Moss With Erica, you don't have to worry about whether that multivitamin gives you the necessary nutrients.
Imagine feeling more robust, more energized, and with improved skin health. In addition, Gold Sea Moss may help with digestion, boost the immune system, reduce inflammation and improve thyroid function, among many others.
Improve Digestion

Boost Immune System

Reduce Inflammation
Support Respiratory Health

Improve Thyroid Function

Improve Joint And Bone Health

Price includes shipping and packing.