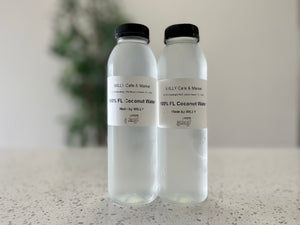 We harvest, process, double filter, and bottle our own fresh Florida coconut water! There is nothing like fresh double filtered and chilled coconut water from local Florida coconuts. We can't wait for you to try it!
Benefits:
- Hydration
- High in Potassium
- Prevents Kidney Stones
- Antimicrobial Properties

Check the label on your store bought coconut water to find we are United States first local source for Coconut Water!
Product price includes packaging, handling and dry ice.